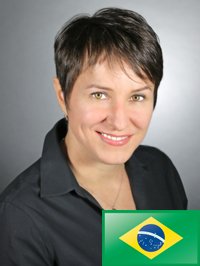 My name is Patricia Schraiber, I was born and raised in Brazil. I have a Bachelor's degree in Business Management and grew up working in my family business. When we sold our company in 2012, my husband and I moved to Florida following our dream to live in USA. We choose the Sunny State. We both love, live and work here. It has been much more than we dreamed of!! Working with JC Penny Realty makes me feel like I'm working in my family business again. As a team of agents we are very well trained to work with excellence as we help buyers from around the world invest here in Central Florida. My academic degree and professional experience, with more than 20 years in Business Administration and Asset Management, coupled with my personal interest in architecture, design, sustainability and continuous professional training/education, as a Broker Associate in the United States, qualify me as a differentiated professional in the Real Estate market. Transparency, seriousness, professionalism, information, and feedback are the pillars of my work.
A minha formação e experiência profissional, com mais de 20 anos em Adminstração de Empresas e Gerenciamento de Ativos, atrelada ao meu interesse pessoal em arquitetura, design, sustentabilidade e contínua formação profissional, como Corretora nos Estados Unidos, me qualificam como uma profissional diferenciada no mercado Imobiliário. Transparência, seriedade, profissionalismo, informação e feedback são os pilares do meu trabalho.
Obrigada por visitar nosso site!!!
Espero ajudá-lo em breve!!